Astrocytes
Gain a deeper understanding of the complexities of glial signaling and tease apart variations due to age, gender, and donor variability with astrocytes derived from human iPS cells.
Quick-Glia™ Astrocyte - Human iPSC-derived Astrocytes give you access to the same cells with every order for more biologically relevant and reproducible studies
Quick-Glia™ Astrocyte Kits provide you with a quick and easy way to turn your iPS cells into astrocytes.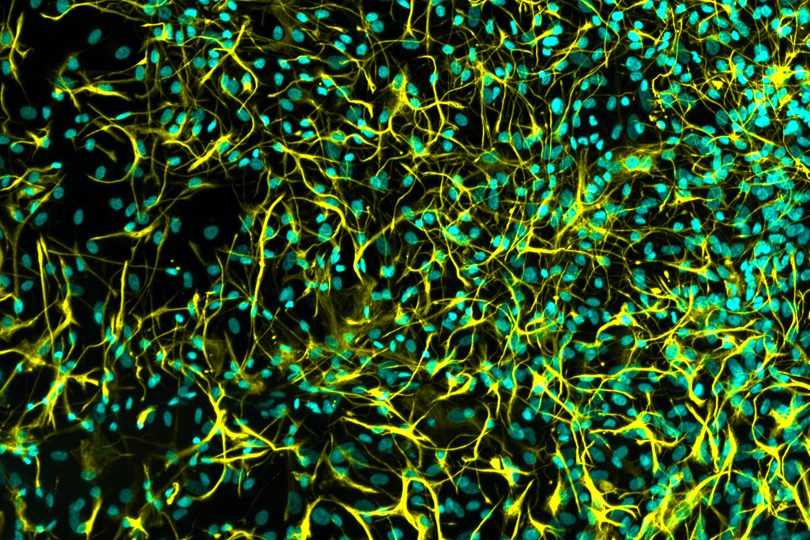 Advantages
~ 1 month differentiation
Functionally validated
No genetic footprint
Differentiation Kits and Differentiated Cells available
Multiple donors and disease types available
Characterization
Differentiation kit workflow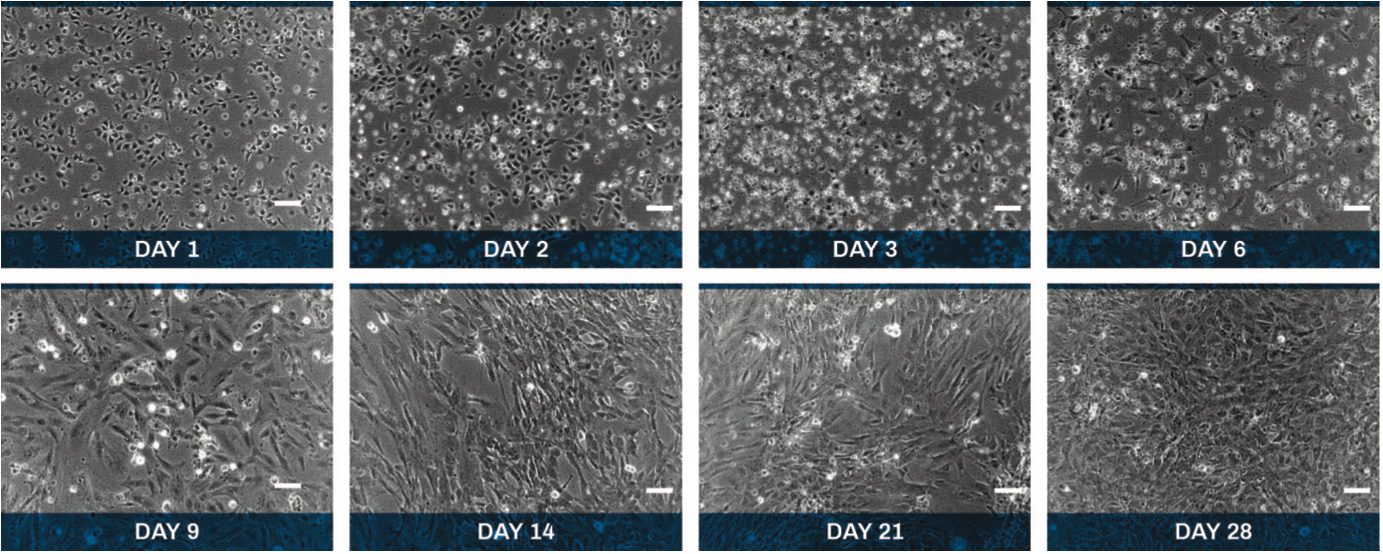 Representative images of Quick-Glia™ Astrocyte - SeV Kit (Small) cell cultures on days 1, 2, 3, 6, 9, 14, 21, and 28 post-differentiation (scale bar = 100 μm). User's cultures may display a slightly lower level of confluency on each day due to minor differences between small and large Quick-Glia™ Astrocyte - SeV Kit formats.
iPSC-derived cells workflow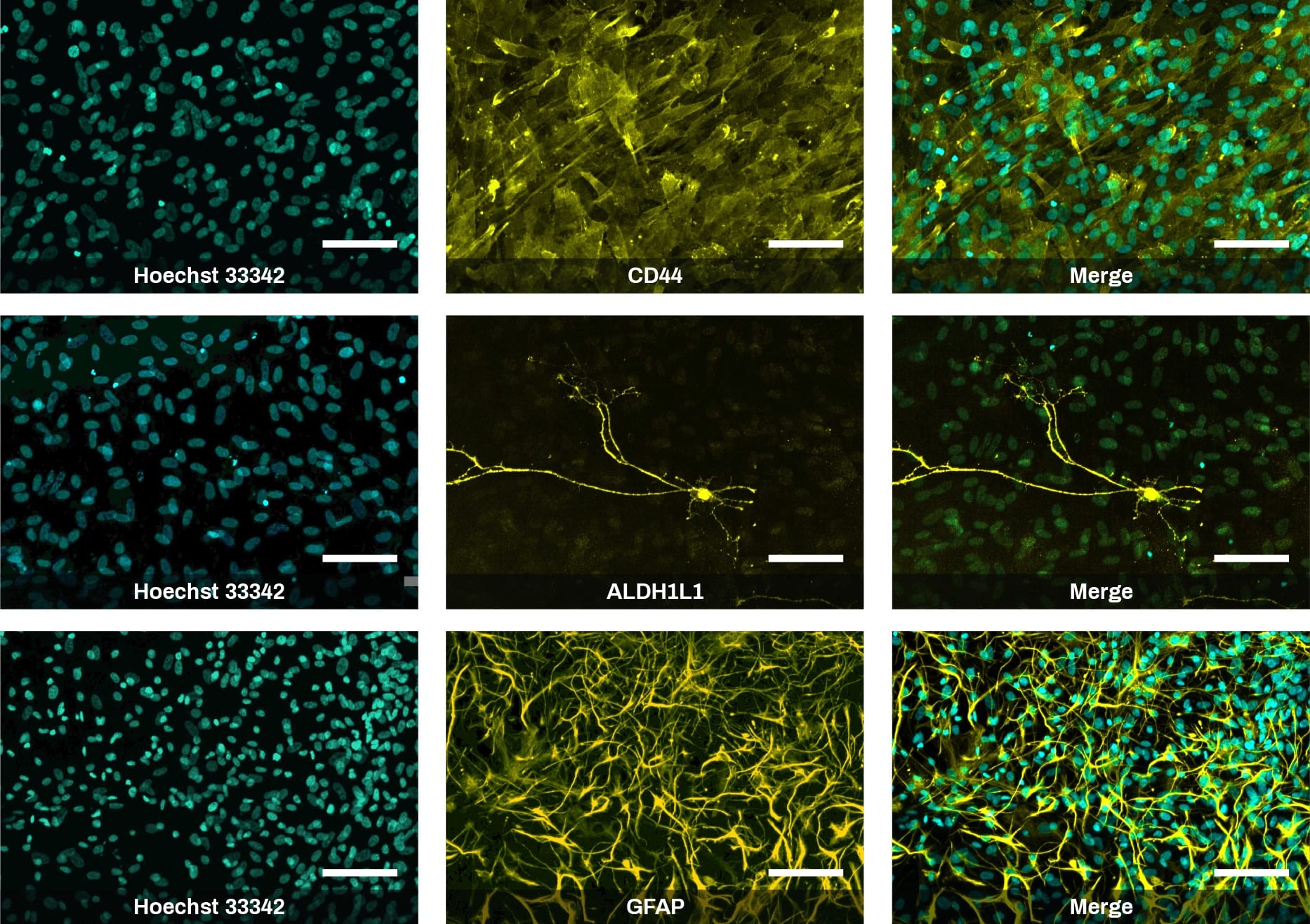 Immunofluorescent staining of Quick-Glia™ Astrocyte shows expression of astrocytic markers CD44, ALDH1L1, and GFAP. Nuclei are counterstained with Hoechst 33342 (cyan) (scale bar = 100 μm). All images are pseudo-colored.

(A) Gene expression profiles of iPSCs and Quick-Glia™ – Astrocyte SeV Culture on day 28 were compared with the profile of human primary astrocytes and the results are shown as scatter plots. The horizontal axis indicates the expression levels of genes in human primary astrocytes purchased from ScienCell (Catalog Number: 1800-5), whereas the vertical axis indicates the expression levels of genes in iPSCs (left) and in Quick-Glia™ – Astrocyte SeV Culture on day 28 (right). The levels of gene expression are shown based on transcripts per million (TPM) in the log10 scale. Blue and green dots represent upregulated and downregulated genes (FDR<0.05), respectively, relative to their levels in human primary astrocytes. (B) Similarities of gene expression profiles of human iPSCs and Quick-Glia™ – Astrocyte SeV Culture on days 14, 28 and 42 to the profile of human primary astrocytes are shown as a bar chart. The vertical axis indicates Pearson correlation (r) based on median-subtracted logTPM.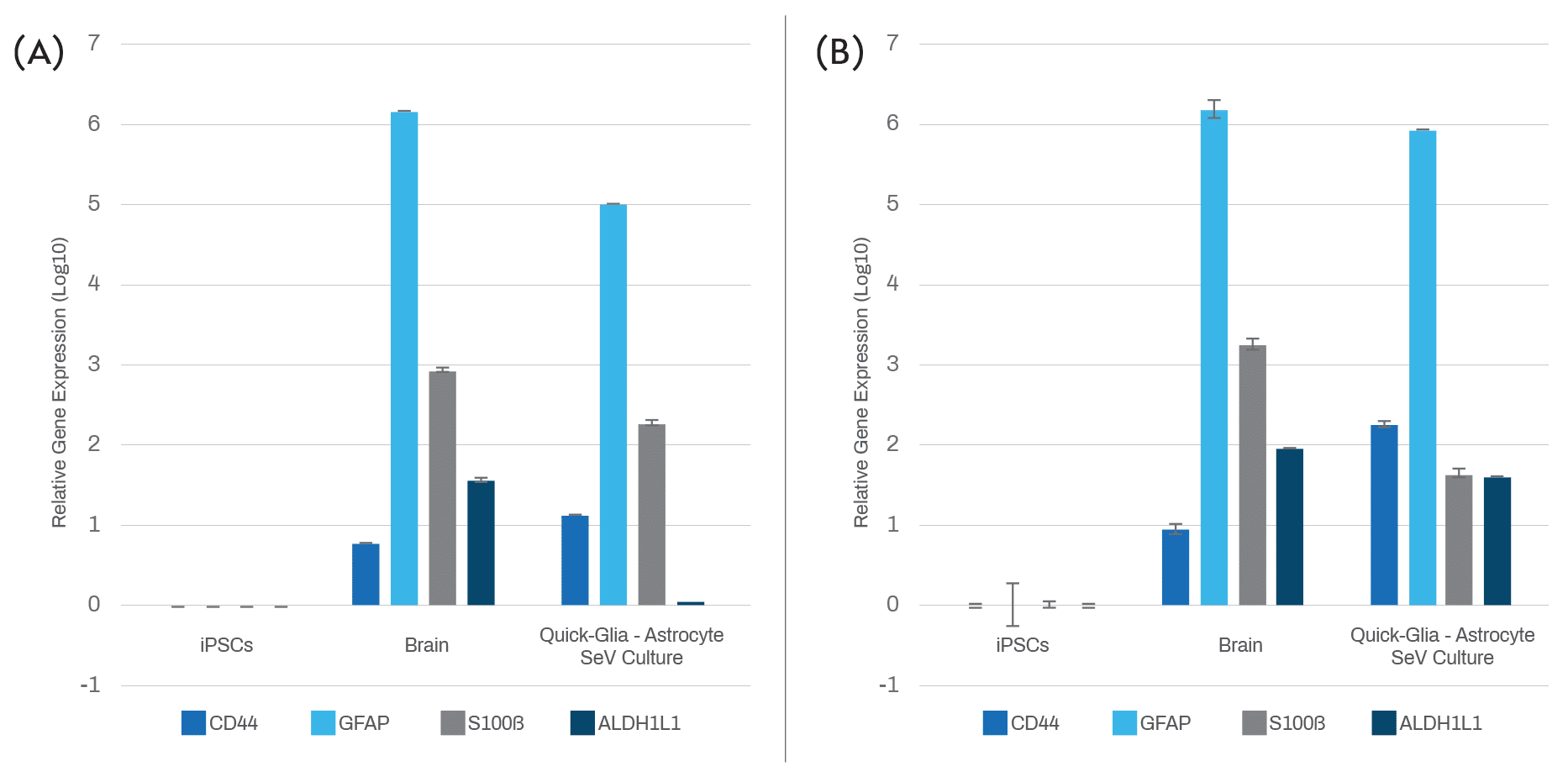 Real-time quantitative PCR analysis of expression levels of astrocyte-associated genes CD44, GFAP, S100β and ALDH1L1 were examined. Graphs show comparison of Quick-Glia™ – Astrocyte SeV Culture on  day 28 (A) and day 42 (B) with human brain total RNA (TaKaRa, Catalog Number: 636530). The relative gene expression is normalized to phosphoglycerate kinase 1 (PGK1), and then calculated as a fold induction relative to undifferentiated hPSCs as a control. Error bars show standard deviation.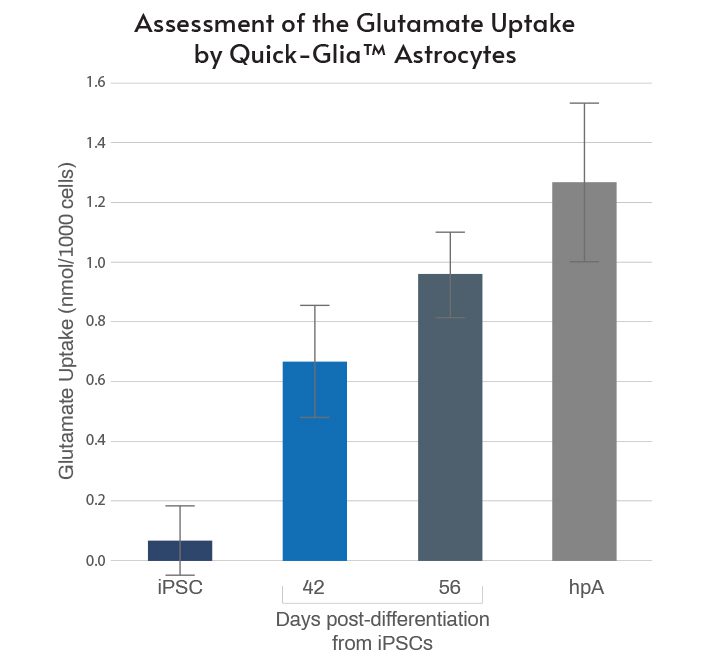 Human primary astrocytes (ScienCell Research Laboratories, Catalog number: 1800) and Quick-Glia - Astrocyte SeV kit cultures, harvested at either 28 days or 42 days post SeV infection, were plated at 7,800 cells/cm2 in a Geltrex-coated 96-well plate (Corning, Catalog number: 353072) and grown in ScienCell Astrocyte medium (ScienCell Research Laboratories, without FBS, Catalog number: 1801) for 14 days. As a negative control, human iPSCs were plated in StemFit Basic04 medium (Ajinomoto, Catalog number: ASB04-C) two days before assay measurement using the plating density stated above. 30 minutes prior to assay execution, culture medium was replaced with Hanks' Balanced Salt Solution (HBSS) without phenol red (Fisher Scientific, Catalog number: 14025092). Subsequently, cells were exposed to 100µM L-glutamate (Tocris, Catalog number: 0218) in HBSS for 60 minutes. Immediately after the assay, solution was collected and cells were dislodged using a 1:1 mixture of TrypLE Select Enzyme (Fisher Scientific, Catalog number: 12563029) and 0.02% EDTA (Lonza, Catalog number: 17-711E). The numbers of live cells were determined using a NucleoCounter NC-200 (Chemometec, Catalog number: 900-0200) cell counter. Glutamate concentration was measured by a bioluminescence-based Glutamate-Glo assay kit (Promega, Catalog number: J7021) and a SPECTRAFluor Plus microplate reader (Tecan). To determine the amount of glutamate cleared, all values were first background signal-subtracted using a HBSS only sample and concentrations were thereafter acquired from the glutamate titration curve according to manufacturer's instructions.
Astrocyte Differentiation Kits
Our Quick-Glia™ Astrocyte - SeV Kits (small and large sizes available) allow researchers to quickly, easily, and efficiently differentiate their iPS or ES cell line of choice into astrocytes. The kits utilize temperature sensitive Sendai virus to deliver our proprietary cocktail of transcription factors that induce differentiation without leaving a genetic footprint.
Cat No.
Product Name

Disease Status

Description

AS-SeV
Quick-Glia™ Astrocyte - SeV Kit

This kit differentiates human pluripotent stem cells into astrocytes in 28 days using Sendai virus.
iPSC-derived Astrocytes
Elixirgen Scientific's Quick-Neuron™ Cholinergic - Human iPSC-derived Neurons are created using human iPS cells made available through a license from The California Institute for Regenerative Medicine (CIRM).
The CIRM iPS cell repository includes over 1,500 iPS cell lines, so please contact us if you would like astrocytes derived from a specific donor cell line. Every lot of iPSCs is differentiated into astrocytes using our proprietary transcription factor-based technology that is "footprint-free" and delivers functional, high-quality cells.
Frequently Asked Questions
Do I need a license to use Elixirgen's iPSC-derived cells and/or differentiation reagent kits?
No. The use of differentiated cells or kits provided by Elixirgen Scientific does not require any additional license from other parties for any type of use, except for use in humans or for therapeutic or diagnostic use. Check out our license statement in Resource section for further detail.
What sizes of Quick-Neuron™ Excitatory - Human iPSC-derived Neurons are available?
Off the shelf, we offer small (>1 million viable cryopreserved cells) and large (5x >1 million viable cryopreserved cells) sizes. If you are looking for a larger quantity, please contact us for pricing information.
Should I use an mRNA- or SeV-based differentiation kit?
Both delivery methods provide robust "footprint-free," non-integrating expression of the transcription factors, although each kit uses a slightly different workflow. Based on our data, the differentiation efficiency between an mRNA-based and a SeV-based kit is similar. For example, the percentages of TUBB3+ neurons differentiated using Quick-Neuron™ Cholinergic mRNA- and SeV-based kits were 93% and 88%, respectively.
We recommend the mRNA-based neuron differentiation kits for labs with experience culturing iPSCs/ESCs, as the workflow involves slightly more manipulation of fragile differentiating cells than the SeV-based kits. The SeV-based kits are better for labs with little experience culturing iPSCs/ESCs, although they must be used with BSL-2 safety measures and may require prior approval from your Institutional Biosafety Committee (IBC).
What sizes of Quick-Neuron™ differentiation kits are available?
Off the shelf, we offer small and large iPSC neuronal differentiation kits. The small size is best suited for single cell, imaging analyses, and pilot studies while the large size is best for applications such as high throughput screening and RNA sequencing.