Services
Get your studies off the ground fast with Elixirgen Scientific's services using iPSCs and iPSC-derived cells tailored to your research requirements. Our transcription factor-based proprietary technology enables iPSC differentiation with a fast turnaround time to accelerate your research.
Let's discuss how iPSC services can benefit your project.
Why Elixirgen Scientific
Elixirgen Scientific stands at the forefront of stem cell research, with exceptional expertise in induced pluripotent stem cells (iPSC) and iPSC-derived cells. Our in-depth knowledge, coupled with a broad variety of assay offerings, makes us the go-to resource for cellular assays and functional assays using iPSCs.
Service Offerings
Custom iPSC Differentiation
Our custom iPSC differentiation service allows you to generate a wide variety of cell types tailored to your research needs. This service significantly enhances disease modeling capabilities, paving the way for personalized and disease-specific studies. If you don't currently have an iPSC line, we can also provide assistance in obtaining iPSC lines from iPSC banks or gene-editing service providers. Consultations are free, so request a consultation today to discuss your project requirements. See here for some examples of iPSC lines Elixirgen can help you acquire.
Disease Modeling
Utilizing our iPSC technology, we can generate disease-specific cell models that accurately recapitulate human disease conditions. This aids in advancing our understanding of disease pathophysiology and facilitates the development of potential therapeutic interventions. Elixirgen Scientific help you confirm disease-specific phenotypes when applicable right after differentiation.
ALS Disease Study
Healthy control and ALS patient-derived iPSCs were differentiated into cholinergic neurons. The cells were fixed at day 10 from iPSCs and stained by TUBB3 (Green) and TDP-43 (Red).
Drug Discovery
Elixirgen Scientific supports your drug discovery journey, offering services that range from early discovery, high-throughput screening to toxicity testing using iPSC-derived cells. Select assays from below best suited screening approach for your journey.
Differentiation Protocol Development
Our team of experts can also assist in the development of new differentiation protocols using proprietary Human Gene Expression Correlation Matrix and library of hundreds of transcription factor plasmids and mRNAs, allowing you to generate specific cell types that are not readily available.
Elixirgen Scientific proprietary transcriptome database and plasmid library enable the systematic and fast iPSC differentiation protocol development. See how our technology works.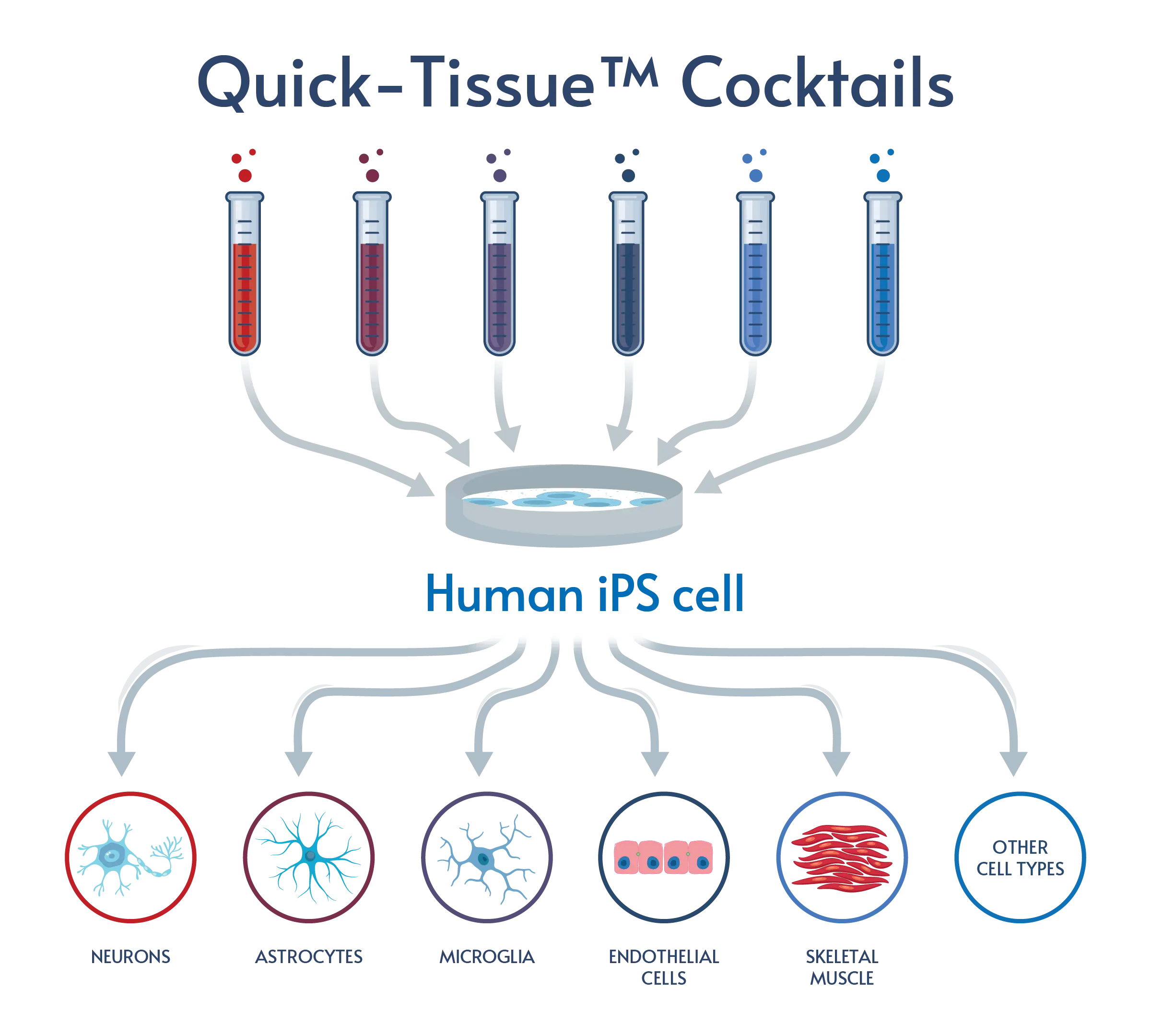 Assay Offerings
iPSC Assay
Our iPSC assays evaluate pluripotency and differentiation potential, providing reliable tools for the quality control of iPSCs. Assays include trilineage differentiation, immunocytochemistry, flow cytometry, karyotyping etc.
Imaging Assays
Our imaging assays include Immunocytochemistry Assays, Neurite Outgrowth Assays, and other High Content Imaging Assays with a 4 channel confocal microscopy. These assays provide rich, quantitative data about cell morphology, protein expression, and cellular interactions.
Neurite length analysis
Our fast differentiation enables quicker and quantitative comparison between healthy and patient or treated and non-treated cultures.
Functional Assays
Our functional assays, which include MEA Assays, Calcium Flux Assays, and Patch Clamp Assays (run by a partner), offer direct insights into the functional properties of cells, including iPSC-derived neurons with or without glial cells such as astrocytes.
MEA (multi-electrode array) assay
Your drug candidates could be tested on MEA plate after iPSC differentiation. Healthy control and disease patient iPSC line derived cells could be plated onto the same MEA plate to test quantitative property changes with drug candidates.
Gene Expression Profiling
Our scientific and bioinformatics teams are adept at conducting a wide range of gene expression profiling methodologies. We routinely perform RT-qPCR and RNA-seq to evaluate the expression of specific markers. Moreover, our services extend to unbiased global transcriptome analysis, a valuable addition to the repertoire of 'omics' data acquisition.
Global transcriptome analysis
Our bioinformatic team enables unbiased analyses with transcriptome datasets from RNA-sequence and microarray. If you would like to capture global difference between patient and healthy/isogenic control or non-treated or treated cultures, let's discuss with us for designing experiments.

Assay Development
We also offer assay development services, helping researchers to design, optimize, and validate novel assays tailored to their specific research objectives. As Elixirgen Scientific is located at Science and Technology Park at Johns Hopkins, variety of unique Core Facility equipment is also available to access
Work with Elixirgen Scientific
Partnering with Elixirgen Scientific gives you access to our robust portfolio of services. You can engage us directly for consultation or utilize our online marketplace for a streamlined procurement process. With Elixirgen Scientific, you have a reliable partner committed to accelerating your cellular assay development and functional assay projects, driving innovation in your research.
Online Marketplaces
Save time, skip the hassle, order with your preferred outsourcing platform. Easily access Elixirgen Scientific profile for your research and development needs in just a few clicks. You can connect to our profile through ScienceExchange or Scientist.com for convenience.
At Elixirgen Scientific, we are passionate about supporting your research. We strive for simplified, efficient, and optimized access to our company. We are proud to have joined ScienceExchange and Scientist.com that provide an efficient research and development marketplace platform for your lab to access our iPSC-derived technology differentiation kit technology.
Frequently Asked Questions
How much do the iPSC services cost?
The price for the differentiation of one hPSC (iPS or ES) line varies based on multiple factors and requirements such as iPSC expansion requirement, number of cells required, QC criteria etc. Contact us to share your requirements and start discussion.
I don't have my own cells, where can I order an iPSC line?
If you do not already have an established iPSC line, you can find patient iPSC lines in your interest here. Contact us for you to learn more about sourcing iPSC lines and differentiation.
How do I ship my hPSC line?
Sending biomaterials is always challenging. However, Elixirgen Scientific has a lot of experience in cross border logistics for cells and biological materials. Our knowledge and expertise will navigate you to properly prepare your iPSCs to ship. We use dry ice shipment in the US and liquid nitrogen dry shipper internationally to ship cryopreserved cells. We can also accept live hPSC lines to speed up an entire process and lower total fees.
Can you reprogram my cells into iPSCs?
We do not currently offer services for reprogramming cells into iPSCs. However, we can work with our partners to take care of this reprogramming services from fibroblast or PBMC.