Glial Differentiation Kits
Our Quick-Glia™ iPSC glial differentiation kits allow researchers to quickly, easily, and efficiently differentiate their desired iPS cell line into a variety of glial cell types, including astrocytes.
Quick-Glia™ Differentiation Kits & Media
Although human iPSCs have many advantages over existing models, a drawback is that differentiation has historically been a very time and labor intensive process. Our Quick-Glia™ differentiation kits overcome this obstacle by utilizing our proprietary transcription factor-based technology that allows for rapid and reproducible differentiation of stem cells into a variety of glial cell types in just weeks.
Advantages
Differentiate your desired iPSC line
Fast differentiation and maturation
No genetic footprint
Cat No.
Product Name

Disease Status

Description

AS-SeV
Quick-Glia™ Astrocyte - SeV Kit

Kit for differentiation of human iPS/ES cells into astrocytes in 28 days using Sendai virus.
Characterization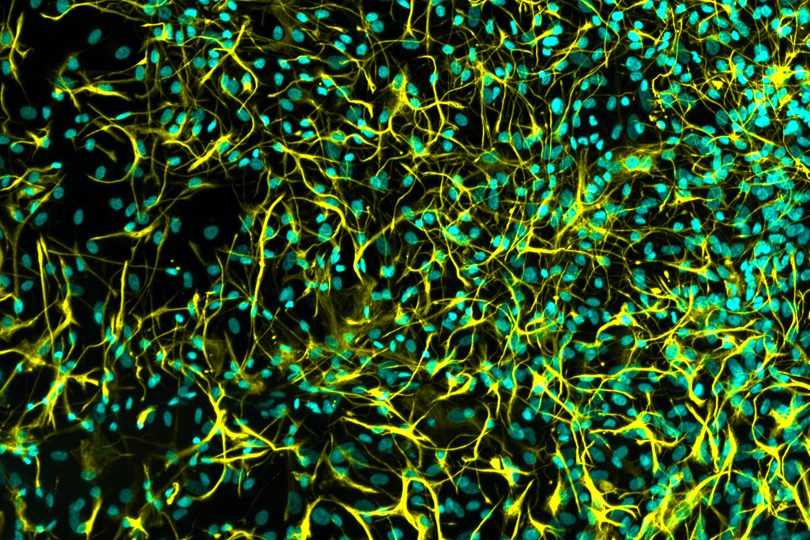 iPSC-derived astrocytes display typical astrocyte morphology and express markers including S100β, CD44, ALDH1L1, and GFAP.
Representative phase contrast images of Quick-Glia™ Astrocyte – SeV Kit cell cultures on days 1, 2, 3, 6, 9, 14, 21, and 28 post-differentiation (scale bar = 100 μm).
Frequently Asked Questions
Do I need a license to commercialize products using Elixirgen's iPSC glial differentiation kits?
No. The use of glial differentiation kits provided by Elixirgen Scientific does not require any additional license from other parties for any type of use, except for use in humans or for therapeutic or diagnostic use.
What sizes of Quick-Glia™ differentiation kits are available?
Off the shelf, we offer small and large iPSC glial differentiation kits. The small size is best suited for single cell, imaging analyses, and pilot studies while the large size is best for applications such as high throughput screening and RNA sequencing.